Protection Dogs UK
K9 Protector are experts in training and supplying personal protection dogs and family protection dogs.
We match the right protection dogs to you and your family and with your lifestyle which also maintains the happiness of the dog or dogs, depending if you require more than one protection dog for personal protection. Our experience and caring approach to training dogs for personal protection is evident in the dogs we supply, hence our message - The Sword at Your Side.
Please view our Family Protection Dogs for sale in the UK
Highly-trained protection dogs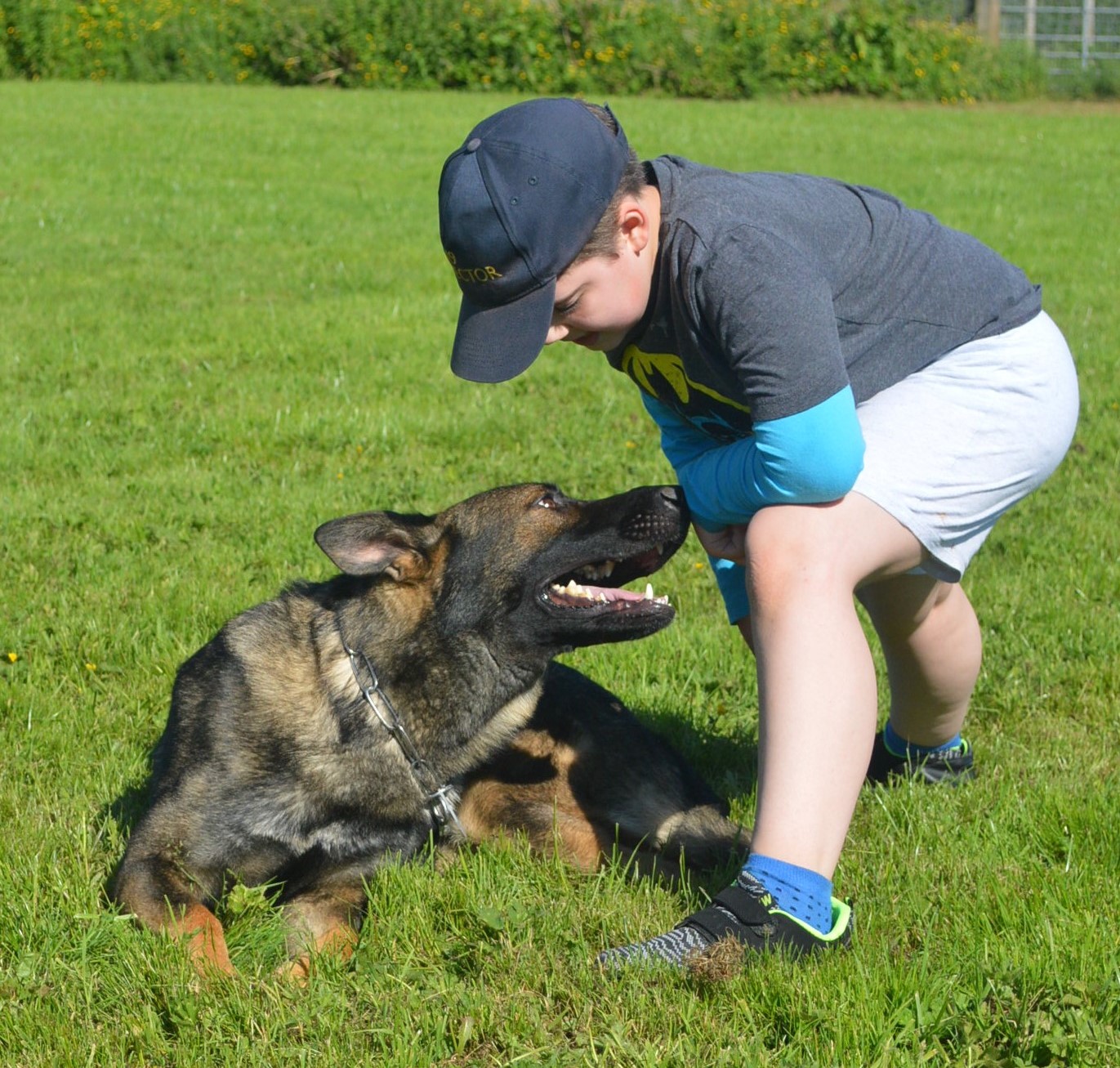 We select only the very best working dogs from the most reliable sources in Europe. We take only the very best dogs, and continually assess each dogs performance. We have three levels of trained protection dog. Each category of trained dog has different training levels from the basic entry level through to our highest trained k9bodyguards.
From our base in Bath UK, a 30 minute drive from the M4 motorway, we´ve trained K9 Protectors for families and individuals from all walks of life, both here in the UK and across Europe. And with over 80 years cumulative experience in Police Dog training and handling, we believe our expertise and knowledge is second to none.
All members of the K9 Protector team have trained and handled dogs in threatening and violent situations. This skill set is used to produce the very best protection dogs available anywhere in the UK. Our senior training staff have literally decades of experience in training police dogs in UK police services. They have trained hundreds of large breed dogs to home office strict standards and whilst the requirements of a protection dog are different to that of a police dog when a dog defends its owner there is little difference.
Contact K9 Protector today to discuss what you need. Or please view our protection dogs for sale; all of which are expertly trained personal protection dogs, executive protection dogs and family protection dogs. We have lots of satisfied customers that have invested in the ultimate peace of mind that only a K9Protector protection dog could provide. Visit our testimonial page to hear what they have to say....

Alaster Bly

Personal protection dog senior trainer Alaster Bly was a police dog handler in the UK prior to establishing K9 Protector as the leading family protection dog supplier in Europe.

Alaster heads up this small but experienced team overseeing the training and development of protection dogs at K9protector.

"From our established breeding program we are able to cement breed characteristics that suit a dog to the role of a Family Protection Dog.

However it's always a 60/40 split between genetics and development from a young age. It's something that were very good at and combine that with real world training we produce the very best protection dogs"

Sadly there is no regulatory body or watchdog for the training and sale of protection dogs in the UK so I would encourage you to do your research as the potential purchase of a protection dog is a well considered one and one investment that should protect your family.

Protection dogs should be balanced individuals trained to exacting standards and most importantly the individual dog should be a perfect match for the client. The match between client and protection dog is an essential one. Each dog is different in terms of drive and personality let alone size and structure so there are a few things to consider when looking at a potential family protection dog for your family.




Bob Pocock

Personal protection dog senior trainer Bob Pocock has over 43 years experience in handling and training police dogs in the UK.

An integral part of the team; Bob brings a wealth of experience and knowledge to K9 Protector.

Read more on our protection dog trainers

Sian Bly

Personal protection dog trainer Sian Bly had this to say about her role at K9Protector

"I have worked for K9protector for over six years. My main duties are home testing fully trained adult dogs. The selecting of dogs to enter our breeding program. The whelping of the puppies and raising them into adulthood to become family protection dogs. It's so satisfying to take a puppy from birth to adulthood. Along this journey they become confident individuals through our structured program of obedience, environmental training and protection training.

Every day is different for me and it's a wonderful experience being able to develop and work so many different dogs and knowing their individual personalities.

It makes me very proud when protection dogs leave us to their new homes and the new owners comment how lovely they are and how well they adjust to their new situations.

Prior to coming on board I had sixteen years experience in the private sector developing and training large breed working dogs."

Read more about our protection dog trainers