K9 Protection Dog Testimonials
Here you can read testimonials we have received from clients who bought a personal protection dog or family protection dog from us. If you would like to discuss your requirements for a defence dog, please do give us a call on 07542 200 243 and we'd be happy to help.
Family Protection Dogs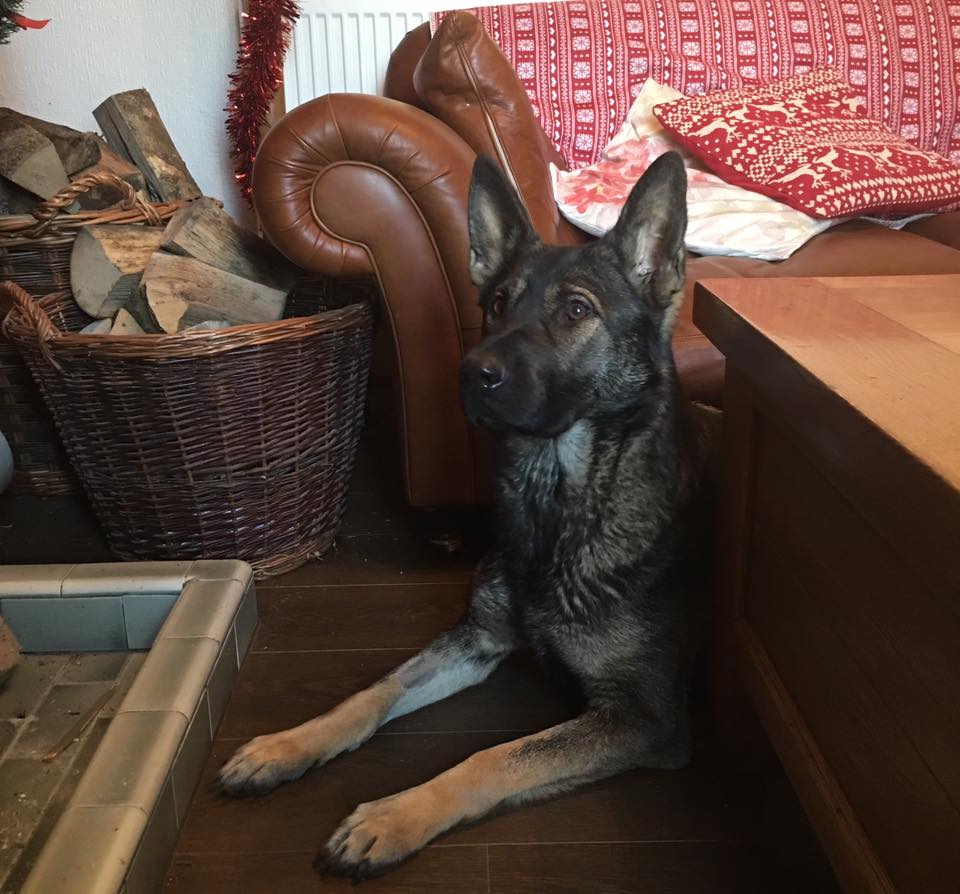 I found Alaster's website while researching personal protection dogs - K9 came up with photo's of different dogs, all fully trained to a high standard. The dog I chose stood out as a beautiful and noble creature and when I finally met him down at K9, It was love at first sight. I could also tell that he was more than a bit of a favourite of Alaster's and the team and I wonderedif I and my home would be good enough to take such a prized dog.
A month later, the handover and owner training was scheduled. I was extremely nervous that I might not be good at it and the dog might not settle etc. However I should not have worried. Alaster and his assistant came for a couple of days so thatI and four of my members of staffwere instructed with extreme care, good humour and patience and within a matter of hourswe were all comfortable and confident to be able - if needed- togive the dog his task. Apart from that, on an everyday basis the dog is a joy-we all adore him and he us. In fact, so impressed were we that we have taken another dog from K9 - A female dog and they make a perfect pair.
One can immediately tell these dogs have been trained
with kindness and patience. They are so well adjusted and make a lovely addition to our family. I feel completely safe and secure in the knowledge that both dogs would immediately respond to my order to dissuade an intruder with extreme prejudice if required to do so.
I cannot recommend Alaster and his team too highly
Lady Victoria Getty
Family Protection Dog Hicks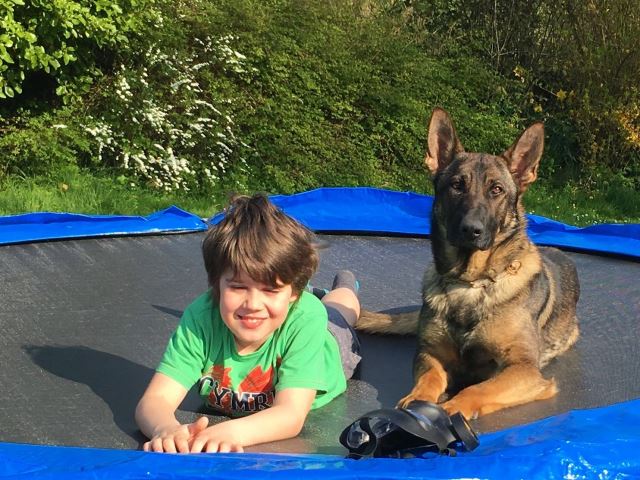 Hello Alaster,
Many thanks for last weekend's hand-over with Hicks, the whole process was not only extremely informative, but also really enjoyable for us both.
As I'm sure you know, Sandra is already more than a little in love with Hicks – I am now definitely the No2 Man of the house!
Seriously, Hicks is a truly fantastic dog and everything we wanted.
For me, one of the most notable comments you made at the weekend was when you described your dogs as 'not guard dogs that simply bark at everything, but a family friend, that is also entirely capable of looking after and protecting your family whenever required'.
I think that this sums up Hicks perfectly – he's a gentle, obedient and lovable character, who when instructed can very clearly protect your loved ones in a singularly most impressive manner.
Many thanks once again and both Sandra and I would wish you and your company continued success, you have clearly earned it.
Sincere kind regards
Martin Randall
Chairman Crystal Clear Group
Family Protection Dog Kane
By way of background, we are a family of five with our two eldest sons now living away from home & 11 year-old son. We live in a rural location and wanted a "family" dog. My husband grew up with border collies, however, I had never had animals before. Typical of my husband, he went off & did lots of research & came back & said we should get a 'protection' dog. I was a bit sceptical as our primary reason for adding a dog to our family was a companion for our 11 year-old & my husband has more time on his hands with semi-retirement.
My husband talked to me about suppliers he had found but there was one "standout" Company he talked about enthusiastically – K9 Protector! He explained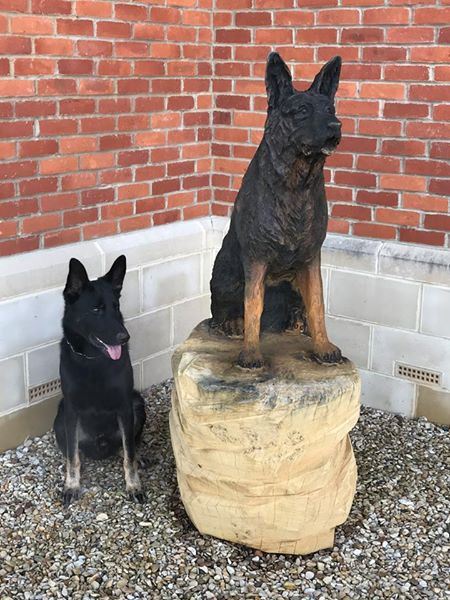 their background as former police dog handlers & trainers made them standout. Furthermore, they provided a complete service including kenneling & follow-up training. We had many questions, especially the 'balance between family pet & protection dog' (the idea of protection was appealing given our rural location but not something we had ever considered). We contacted Alaster and immediately felt reassured we were speaking with someone who had answered our questions many times, who spoke from a wealth of experience. Alaster asked us lots of questions about our circumstances to gain an insight of how we lived & what our environment was like.
The next stage was to visit Alaster & his kennel with our son. The whole experience of our visit is something that will live with us. The experience was incredibly professional & seeing the fantastic environment the dogs were in simply just impressed us. But the best bit was meeting four dogs Alaster felt could meet our needs & environment. Alaster & his team put the dogs through their paces which was incredible to see firsthand. We also met all four dogs up close, playing with them and stroking them.
We sat down afterwards with Alaster & he talked about what we could expect if we purchased a dog from him, including an extensive handover, kenneling, refresher training & answering our questions. We left Alaster that afternoon & talked for the next couple of days, not about would we purchase a dog from Alaster but which one as all four were stunning! We came to family decision & chose Kane.
Kane has now been part of our family for 14 months, so we wanted to write this testimonial based on a considered time period. The two day handover experience with Alaster & Will was fantastic! It was hard work, but fun. A real bonus for us was just how much knowledge & information Alaster & Will transferred to us. We didn't just feel we were being handed a dog but we were being given all the tools to look after him. We also quickly realised Kane did not need any training but it was us that were being trained.
After the handover, there were times in the first six weeks which did not go as smoothly as when Alaster & Will were here. But Alaster had made it clear to just contact him if we had any questions, which we did & he calmly just pointed as back in the direction of our training which reset us & immediately got things back on track. By the time Alaster & will came back for a planned "refresher" training day things had really settled down & Alaster commented that Kane had clearly "claimed" us as a family.
Since the initial six weeks we have contacted Alaster a few times with questions and he has backed up everything we heard at our initial contact with him and immediately answered us. We have also booked Kane into Alaster's kennel several times for when we have been holidaying & seeing Bob coming to collecting Kane & knowing where he will be while we are away is incredibly reassuring. When Kane arrives back with us he always beautifully washed & groomed.
So after 14 months, Foremost Kane is an amazing part of our family, our 11-year old is always playing with him. The grand-parents make excuses to visit, not us but so they can take Kane for a walk. Our knowledge of dogs thanks to Alaster means we are often answering our friends' woes with their dogs. But we also know that we have an incredible deterrent if called upon in Kane.
Finally, we want to say a huge thank you to Alaster and his team for all the work you do with the dogs and the support you provide – we have no hesitation in recommending your services!!!!
Mr and Mrs C (Oxfordshire UK)
Read more K9 Protector dog reviews and testimonials
Family Protection Dog Dora
Dear Alaster
I am writing to tell you how pleased and impressed I am with Dora, who you delivered in early January (2016). She really has been a fantastic addition to our family.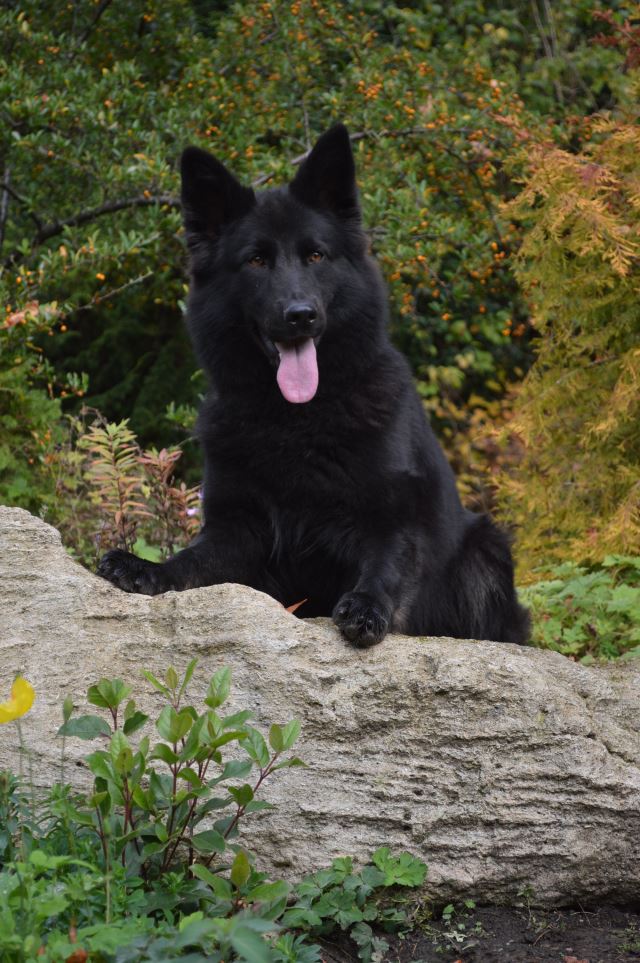 She has settled in well with our other dogs and those members of my family who were unsure about German Shepherds are now firm fans of the breed. My cleaner who was going to hand in her notice is now her No.1 fan and looks after her when were away.
She has been pretty much an unmitigated success !
Whilst she is as well trained as you would expect (as I have said she has fitted in superbly) the pre and post purchase process has impressed me almost as much as she does.
I thought the initial handover procedure was over the top however, it gave us an excellent foundation from which to benefit from Dora to her full capability.
The questions that inevitably arose once you left us were answered on the follow up visit. I think the way you do this in peoples homes with them is absolutely the right way to proceed and gave us a lot of confidence.
We don't feel the need for further training yet, however, I think I would like them to becomepart of our annual routine.
I think Dora returning to you to work out our bad habits whilst we are on holiday is also something I'm keen on.
I will contact you later this year to make arrangements
Kind regards
Mr D B (Staffs)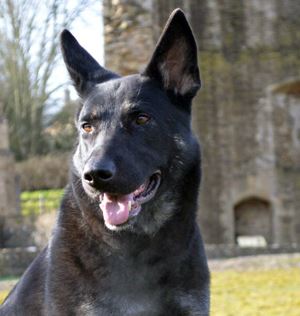 Family Protection Dog Bizkit
Al and his team are professional, reliable and really know and love all of their [protection] dogs.
We have just completed a fun and educational and informative handover with our new [protection] dog this weekend, and only after two days she feels like part of our family and we are confident in having her here at home.
Alaster is at the end of the phone for help and advice and has supported us throughout the purchase process.
Mr and Mrs J and L Brown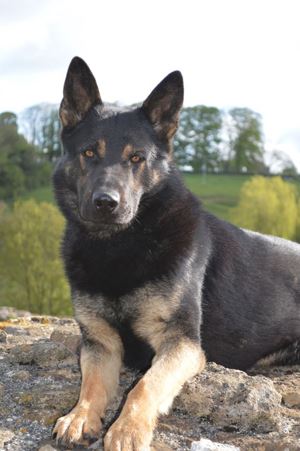 Family Protection Dog Ari
We had no reason to buy a protection dog no real threat, no horrible experience we just thought it was a good idea. It wasn't just a good idea it was the best decision and investment we have ever made.
Arie is a best friend with teeth, everyone loves him and we feel protected at all times. Arie has never shown any aggression to anyone, but is alert to any threat at all times. My 3 and 4 year old adore him and him them, he is also a perfect house guest with impeccable manners.
He really is amazing and we feel 100% sure he would react on a single command. We are considering sending our children to Alaster and team to see if they can train them !
Don't look anywhere else, the K9 Protector team really know their profession and wont ever let you buy their dogs unless they are sure it's the right match for you and you're the right match for one of their amazing dogs.
Mr R Lake
Family Protection Dog Turbo
Since our very first contact with K9 Protector we have been impressed with how thorough and professional our experience has been.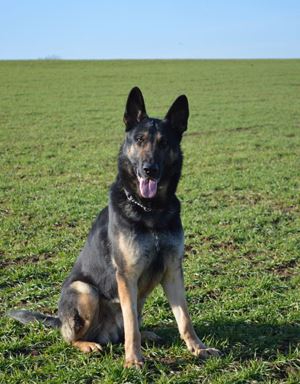 The two day handover training was perfectly pitched, fully explained with a good balance of constructive criticism and praise. All delivered with confidence, patience and humour.
All aspects of owning a protection dog were covered: obedience, protection work, medical, law, feeding, play etc. No question was dismissed and all administration was checked and explained in detail.
We were concerned that our dog would always be on alert however, we found immediately that he is formidable when working but a relaxed, playful family pet when not on task.

We are absolutely thrilled with Turbo, comfortable with building on and practising what we have been taught and reassured that we can phone with any questions at any time. It's good to know that there is a follow up training session six weeks after purchase and a variety of maintenance programs available.
Mr and Mrs J (Kent)
Family Protection Dog Urma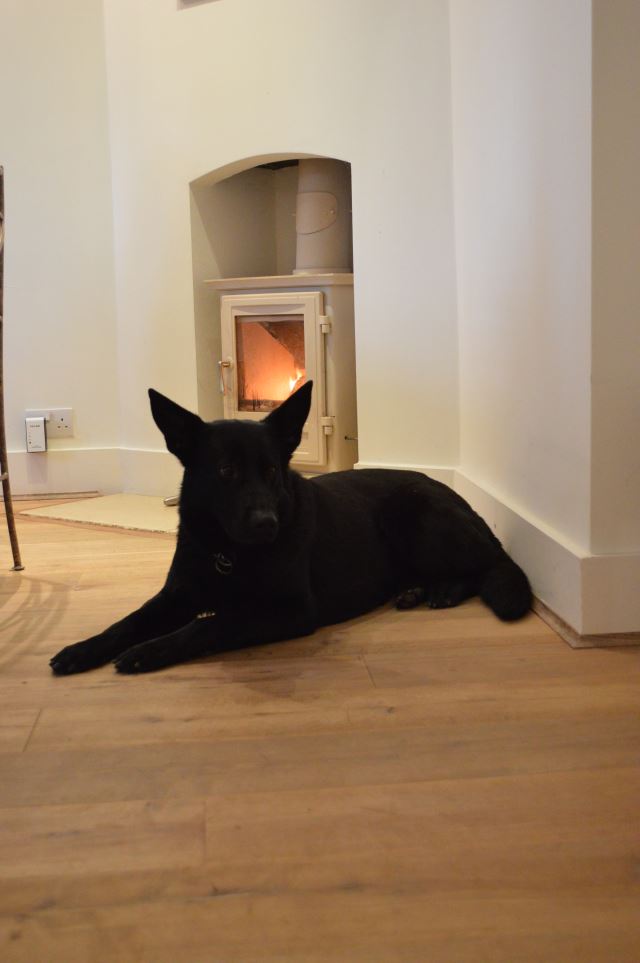 Urma is doing brilliantly. Fun but obedient and also watchful when others arrive at the house. She seems very happy. We went for a walk in our nearby woods this morning, her first time away from home. Hard to say whether she or the kids were more mucky when we came home! Much wading through ditches that had become streams overnight! Our fabulous couple of handover days with Alaster and Pete where training was carefully and thoughtfully explained and graded to build our confidence and ability to handle our beautiful new dog. As a novice dog owner this gradual process was especially important for me. It is a testament to the K9Protector training of dogs and new owners !
Mr and Mrs K (Hampshire)
Family Protection Dog Usso
If you don't want to read on just read this "These are the professionals"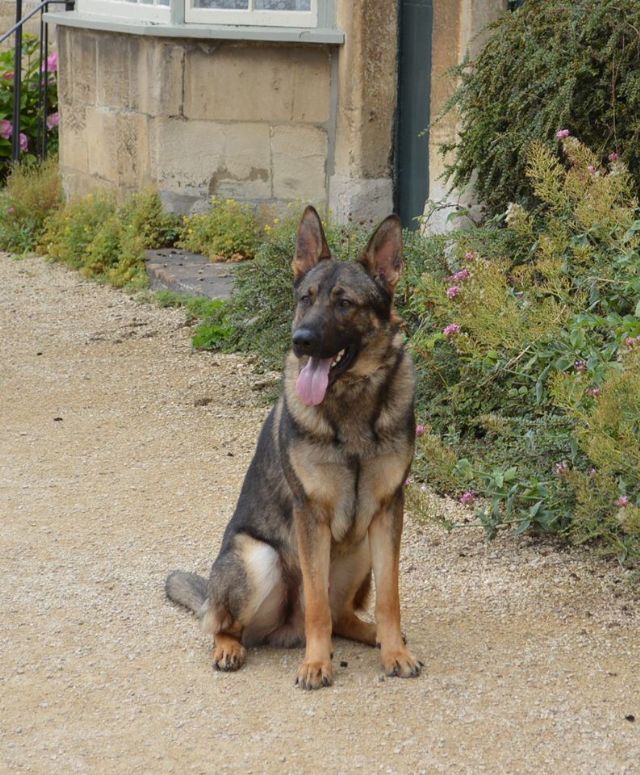 Living in the country has got to be a worry, but abroad and with valuables' is more so. We previously purchased another dog from a large mainstream protection dog company that turned into a very bad experience, Because of this I was reluctant to go down this route again but because of my situation I thought I'd take a look at K9Protector. Well I'm not easy to win over but the minute i met Alaster and the trainers the professionalism just shone.
As for Usso, Alaster matched to us, you would think he had been programmed to fit in .He's not just a protector he's part of the family. Our little Jack Russell just loves her big brother and trots around with broader shoulders than me. All I can finish on is any negative thoughts we might of had in day to day life just are not there now and I am impressed. One of the better decisions I've made and some of the better people I've met. Thank you K9 Protector
P.S. (Hope Alaster doesn't read this cos he might start walking like John Wayne !!!).
Mr Tony S


Family Protection Dog Cheila
Cheila has had a good few days with us: she has settled in well and has integrated with us and the little dogs. She has a very strong relationship with Maisey and they can easily wear each other out at any time of the day!
I am very pleased that I made the decision to get her and I am sure she will do well with us. Many thanks for the last 2 days: it has been extremely rewarding. I am sure tomorrow will go equally well.
You can't imagine the peace of mind Cheila brings with her. I am sure I will never experience the same kind of attack again: but if (God forbid) I did; I am confident I will have a good chance of being OK!
J Jones Warwickshire
Family Protection Dog Quarritt
Dear K9 Protector (Alaster, Len & Amanda), Now that our 3 days of training is complete and Quarritt is settling into his new home, Nick and I would just like to say a big thank you for everything you have done for us over the last few weeks, esspecially the last 3 days, with such an informative, pactient and enjoyable training hand over.
From the very first call to your company right up to the final goodbye today we have felt completely supported.
Much time was taken to understand our requirements and to advise us on the best way forward and for that we are very grateful.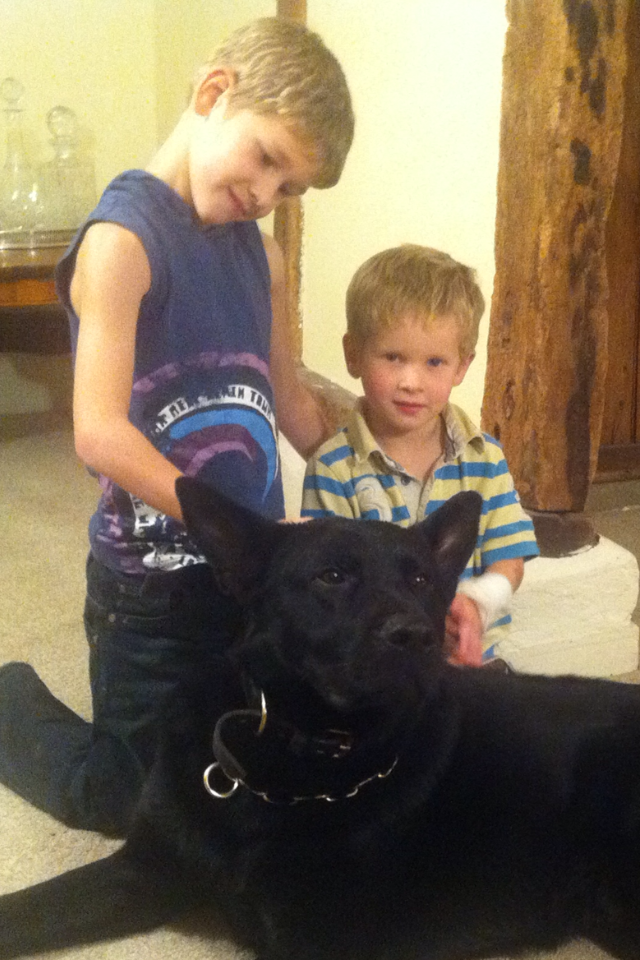 I'm sure Quarritt will be missed but we promise to take good care of him and become Mum & Dad he'll be proud of. I certainly feel proud (and safe) to have him and will work hard to maintain all of what we have been taught.
To Amanda & Len especially, your guidence & support during training has been brilliant and I hope you are really pleased with our progress when you return.
Alaster, I have sent a couple of pictures and while your little girl may not want to see them just yet, in a couple of days it may make her smile, seeing the children now has to play with.
Thanks again and look forward to seeing you soon.
Nick & Ali
Family Protection Dog Henna
K9 Protector: great service, fantastic "product" – couldn't recommend them highly enough.
We are delighted with the [defence] dog we got from K9 Protector and we have been very impressed with them from our first contact to the continued service we have received.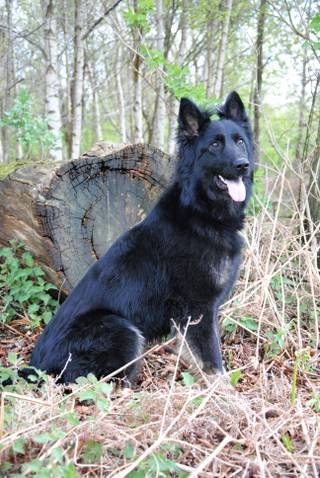 The individual care and attention that K9 Protector puts into their dogs is evident in the fact the newest addition to our family is a loving family pet, as well as a protection dog.
Alaster and his team have provided a highly professional service. Not only were we confident that we were getting an exceptionally well-trained dog, but we ourselves were trained in handling skills over a 3-day period with a day's refresher 6 or so weeks later. This part of the service was absolutely essential as neither my wife nor I had any experience in handling protection dogs.
The training was carefully managed in an expert and sensitive way that built up our skills and confidence, and also created a handover period, during which the dog could start to bond with us and we could get used to her. Subsequently, K9 Protector has been there at the end of the telephone or email to answer any questions we may have at any time of day.
The follow up session was invaluable. A huge effort by Alaster to come a long way to see us but, for us, help with a couple of small things have made a big difference – and reassurance that she still gives a good bite was brilliant. Great service, fantastic "product" – couldn't recommend them or our lovely dog highly enough.
Charlie and Ellen, Devon


Dog Protection from threats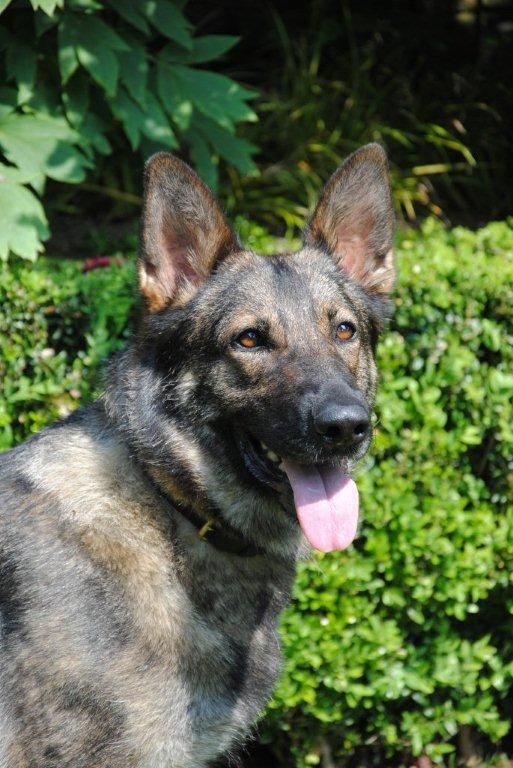 I contacted K9 Protector in early August 2011 hoping to find a solution to a problem. I was very specific in my requirements. I wanted a hard, confident dog with the capability to neutralise a particular threat that we were facing.
And I also needed the dog to fulfill several other criteria, too: it had to be happy, enthusiastic, and fun to be with; it had to be tolerant of our existing dog; it needed to be capable of adapting to different situations and environments, accompanying me to the office or on business trips during the week (and sometimes having to spend the night in our town Centre apartment), but at weekends reverting to country life.
I also favoured a smaller, more-compact dog that wouldn't draw attention to itself - the sort that didn't look capable of starting any trouble, but would certainly be capable of stopping it. K9 Protector's professional approach and attention to detail impressed my wife and I and we ended up purchasing a fabulously trained bitch who has indeed become an integral part of our family, loving and attentive yet an incredible guardian.
A big thank you to Al, Len and Bob for their dedication and their proffessional training.
R Whitley Yorkshire
Family Protection Dog - Ishmai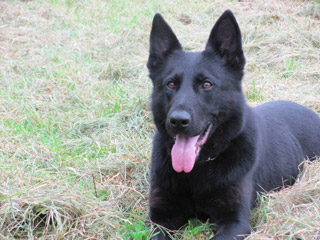 With my husband often being away on business, and a big increase in violent burglaries near where we live, we decided to investigate the idea of having a protection dog. I did a lot of research and found there were a lot of websites that offered "protection" dogs which were either hugely expensive, or people just selling aggressive dogs.
My internet trawl brought me to Al's site, and having read a previous testimonial, I decided to drop him an email, informing him of my situation, and asking him for some advice. Al called back the same day, and we chatted for ½ an hour. He took the time to, answer my questions, listen to my concerns (i.e. we already had two cats) and talked me through what owning a protection dog would be like. I immediately felt re-assured that we were going down the right path, and booked an appointment for myself and my husband to meet with Al, and a dog he thought would be suitable for me, called Ishmai. Al introduced us to Ishmai and we all went on a walk so we could see her in her "natural" pet mode - she was delightful – very friendly, with a wagging tail and plenty of licks for us! Later in the afternoon, we then got to see Ishmai in action, and we got see what she could do when there was a threat......she went from lovely dog to formidable dog, but what impressed me most, was how responsive she was to ALL commands, not just to protect you, but quick to listen to you to return to your side - also an important factor!
There was no pressure from Al at all to buy Ishmai that day, but by this point, we decided she would be the right dog for us, and agreed to buy her and pick up the following week. During this time, Al took the time to introduce Ishmai to his own cats to gauge her reaction, which appeared that she had a healthy interest, but not an adverse reaction to them.
I was both nervous and excited about our new addition to the family, and was hesitant as to whether Ishmai would listen to myself or my husband. However, another good factor with Al is that he doesn't let you go away with your dog until he is confident that she is listening to you both. It could take 2 hours or all day – he will spend the time with you to make sure you are confident. My husband and I spent time with her individually, and then later in the day we worked together with her, and before too long, we were heading home with Ishmai, and her new life with us was to begin.
One of the things I really like about Al is he genuinely cares for the animals he trains – he is not about a quick sale, and takes pride in his work and placing the right dog in the right home. He even had a lump in his throat as we drove off with Ishmai....
The aftercare from Al has been second to none. Ishmai is our first dog, and I hadn't appreciated how little I knew. I had grown up with dogs, but this the first one of my own, and I have been overly anxious about doing what's right for her – never sure whether I'm being too soft, or too harsh – as Al has told me, they are masters of opportunity, and if they can see a way of getting away with anything, they will. To that end, Al has been invaluable, I've rung him several times in near panic – she won't eat etc etc. He has the patience of a saint, and has never made me feel bad for ringing him for advice.
I'm pleased to say that we found our feet, and Ishmai has now settled into our home, and I am much more relaxed with her. We have a lovely life together, lots of walks and cuddles, yet with the knowledge that if the worse was to happen, she would put her life on the line for me. She even gets along with our cats – although that's mainly because they put her in her place! All in all, I wouldn't hesitate to recommend Al and K9 Protector to anyone looking for this service. Our thanks also go to Bob for being the one that Ishmai practiced her skills on – not a job for the faint-hearted!
Mr & Mrs G, Surrey


Family Protection Dog - Jenson
After a truly horrendous incident that took place a mere hundred or so yards from our home and began with my wife and thirteen year old son being pushed and taunted, and ended with my son being punched and my wife having her handbag stolen, I made a decision I'd never allow my family to be subjected to such violence and intimidation again.
I'd heard of the concept of "protection dogs" through a family member living in the States, and decided to investigate the situation over here in the UK. I didn't have a budget in mind - my first priority was a quality, well-trained dog capable of not only acting as a visual deterrent, but with the ability to protect my family and home, too
I searched the internet, put together a shortlist of potential companies, and then came across the website for K9 Protector. Three ex-police dog handlers/trainers with literally decades of hands-on experience between them at the very sharp end of dog training convinced me they should go straight to the top of our list! So after discussing things with the family I made the call and talked to Al Bly, the managing director of K9 Protector, for close to an hour. Through his extensive experience he seemed to completely understand our predicament, the turmoil we'd been through, all the hurt and frustration we'd felt, and then explained the role of a family protection dog and the difference it could make to our lives. I was extremely impressed by his calm reassurance and knowledge. By the end of the conversation I felt absolutely certain that if anything could make our problem disappear, it was one of his highly-trained dogs.
So we arranged to meet and four days later I flew down to Bristol Airport and was collected and driven to the K9 Protector offices in Melksham where I met Al. I was immediately impressed by how much thought and consideration he'd given to our problem since we'd spoken. Clearly both he and his team had "been there and done it" through their time with various police forces, but they were kind, considerate, incredibly reassuring and totally professional. I felt amongst friends and couldn't wait to meet the dogs they felt could best solve the problem we faced. I met each of them - well-balanced, sociable and confident creatures, and then saw what they were capable of when faced with a threat. Their training was explained to me in detail - why some dogs were selected, why many were rejected, how courage and character were paramount, and how the dogs are trained in the most testing and varied environments in the same way they'd trained their police dogs.
After I returned home, and with the help of some videos I'd taken on the day, my family and I made a choice – a mid-sized male German Shepherd dog imported from Europe. We all travelled south together as a family for the two-day handover course and to be honest we were blown away by what we saw and experienced. We were taken to fields, woods, houses and towns and learnt how to handle our new "Protector" in every possible environment. Nothing fazed the dog – he excelled in every situation.
Once home, he settled quickly. His obedience is exemplary (which is very important as my wife and son often handle him) but his presence and capability have meant that my wife and son feel truly protected whenever he's around. He's a wonderful dog, confident, alert and honest, and I truly wouldn't be without him. Thank you to everyone at K9 Protector!
Dr H Wyatt, Edinburgh

Read more K9 Protector dog reviews and testimonials