K9 Protector Heritage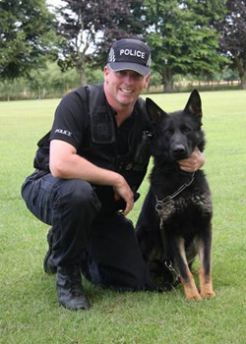 Personal protection dog trainer, Alaster Bly joined the Metropolitan Police in 1988 and then the Wiltshire Constabulary in 1996. In his service he spent the majority of his time as an operational Police Dog Handler. It was during his service that he realised that increasing police response times coupled with increasing dwelling crime meant there would be a real need for a protection dog in vulnerable homes. K9 Protector was then created by Alaster Bly (pictured right).
Protection dog companies in the UK fell short of Alaster's expectations. Some were selling out right Guard Dogs that had no place in a family home. Other Protection Dogs fell short of the standard required to provide the essential protection and home security necessary.
Our team have all handled police dogs across the UK. They have completed home office approved instructor's courses and more importantly they have all had first-hand experience of how a German Shepherd's behave when they defend their owner from violent attack. We also have invaluable help from civilian qualified staff that have actually purchased protection dogs from K9Protector !. Whilst there is a huge difference between a Elite family protection dog and a police dog when a dog defends there is no difference. Dogs don't pretend, they act in the moment.
K9 Protector "The sword at your side"
Protection Dog Training
Training for security excellence. With over 80 years cumulative experience in training owner / handler defence our team continually assesses our training techniques that put us at the very forefront of protection dog training.
We have many satisfied customers that have made the decision to invest in a protection dog from K9 Protector. These customers come from all walks of life from domestic violence victims to multi millionaires living outside the UK. We have posted a selection of testimonials so that you can read what our customers say about us.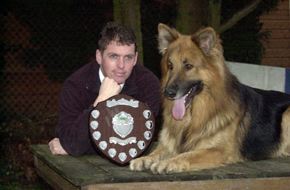 Our focus is your safety and you will be reassured by the level of detail that is built into our protection dog training programme. To read more about our programme click the link to our training page.
Alaster is the Managing Director of K9 Protector. In the provision of Elite personal protection dogs in the UK K9 protector has established itself as the UK's leading company in it's field.
The purchase of an Elite personal protection dog is a well-considered personal process that will give a peace of mind that no other investment in home security could provide.
The team at K9 Protector passionately believes in suiting the right Elite protection dog to a customer. Taking into account all of a client's circumstance and need. In suiting the right Elite protection dog to the right situation K9 Protector have a proven track record of satisfied customer's.
Contact K9 Protector
Please complete the form below and we will contact you back as soon as possible.