Protection Dogs on Holiday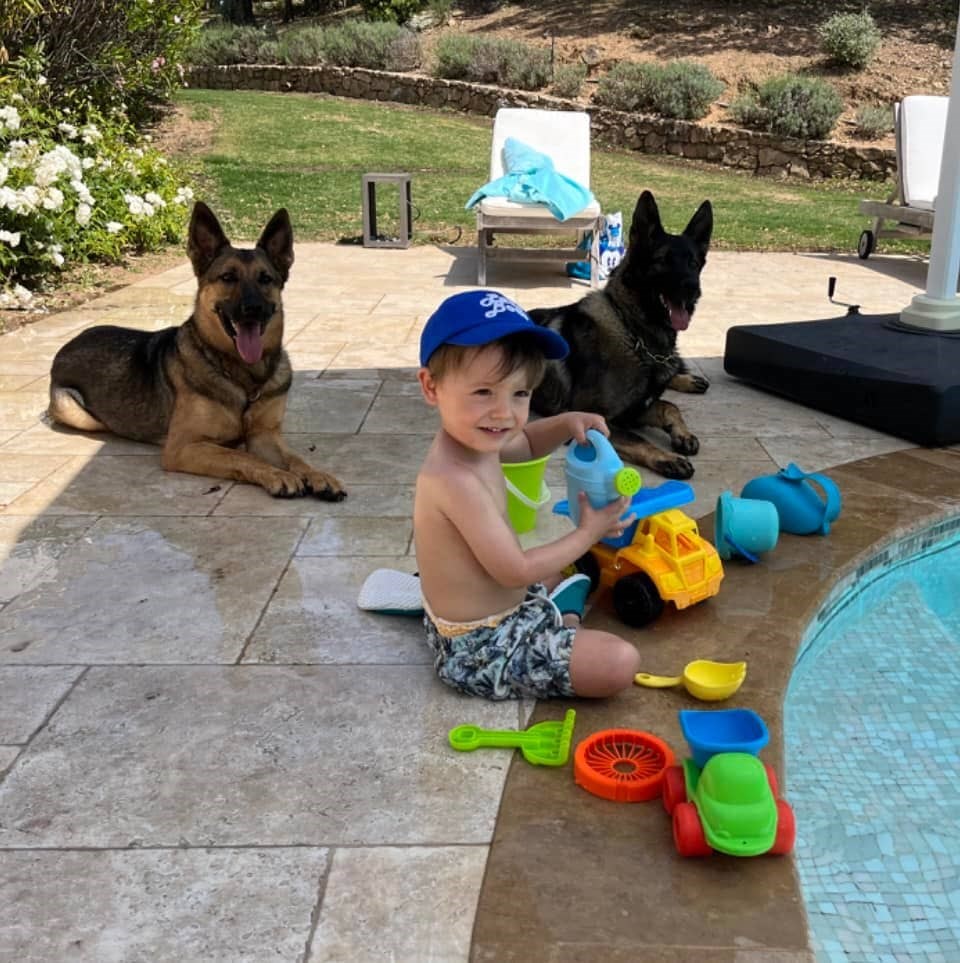 There's a lot to think about when going away on holiday, from what needs to be packed to what plans do you need to organise and how will you get to your destination.
For many people, security at home, such as locking windows and doors properly, is on the list of actions to sort out, but what's often neglected (or not considered fully is personal security while on holiday.
Naturally, leaving a home unattended for a week or two raises concerns about the threat of someone breaking in to steal your valuables and similarly, holidays are about relaxing, and not having to stay on high alert all the time, worried about your own safety. That's understood.
Holidays, however, do carry a certain level of risk while we tend to take our guard down.
Whether it's a relaxing beach holiday or an adventurous trip exploring cities or mountain landscapes, you and your family are going to be out in public a lot and, since offices and other working spaces are typically safer, there are a lot more unknowns when travelling - especially abroad.
Your trained Alsatian protection dog
This raises the question - should you take your protection dog with you on holiday?
If you have a trained Alsatian protection dog to protect you and your family, you might have considered leaving him or her at home. This, however, could be a big mistake.
Your protection dog is there to protect you wherever you go, whether it's at home, at work or on holiday.
Leaving your protection dog behind means you no longer have protection. It's like installing CCTV and then never switching it on or paying for a security guard who never turns up.
Family protection dogs with children
Just because you are on holiday, doesn't mean that criminals decide to take a break as well.
So, the answer to the question "should I take my protection dogs on holiday?" is yes - you absolutely must! There's no point having protection if it's not there when you might need it.
Best equivalent to a bodyguard
If you don't already have the best equivalent to a bodyguard, then please do view our family protection dogs for sale, and then contact us so we can match you with the right protector canine.
Trained German shepherds
Protection dogs are trained German shepherds that are expertly reared, built and trained to stay on high alert whilst at the same time being a relaxed child-friendly family member who is well socialised with other dogs but ready to protect you when you need it.
Cats, dogs and other animals don't take holiday breaks like we do (thankfully!) and the good news is that you can relax more on holiday knowing that your protection dog is there to look out for you, and to deter anyone who is even remotely considering putting a spoiler on your holiday fun.
It's worth pointing out that we are talking about a trained German shepherd that has been trained and nurtured by K9 Protector, and not a security guard dog or ferocious domestic house pet.
It's worth noting the distinction. A trained Alsatian protection dog has the characteristics and training to handle threats when away from the home. Alsatian dogs are more comfortable and more grounded in an unfamiliar environment than many other breeds of dogs.
A muscle dog that's used to protect offices or a warehouse isn't safe to take on holiday, and a domestic pet might be great fun to have around, but their excitement and loud joyous barking isn't likely to protect you when coming face to face with a criminal.
Having a trained Alsatian protection dog with you on your holiday is the only way to fully protect you and your family - and to ensure that you can relax properly as you deserve to.
Wherever or whenever you go away this summer, stay safe and have a great time!
If you have any questions or concerns regarding safety and your trained German shepherd protection dogs when going on holiday, get in touch. We would be happy to answer any questions that you might have.