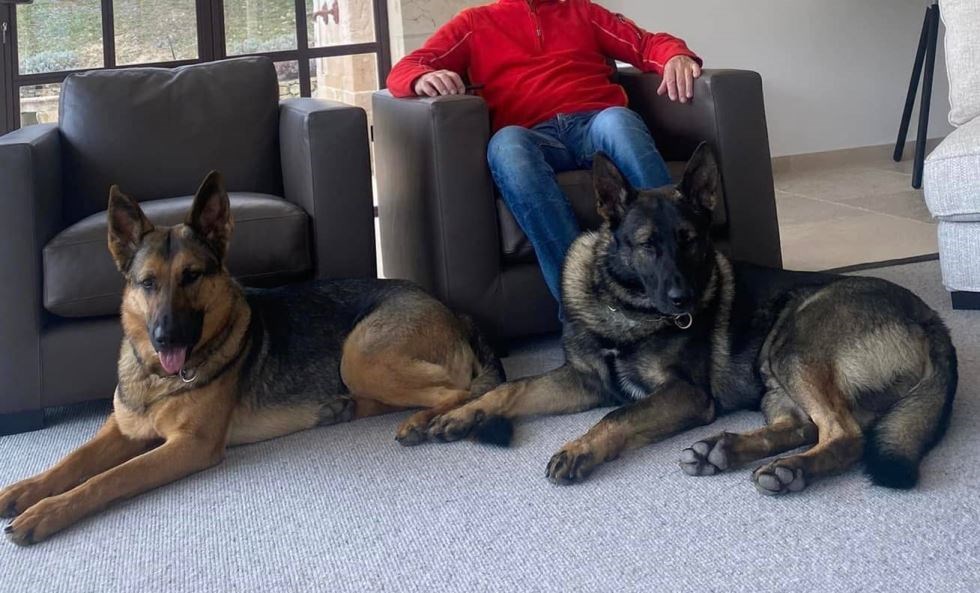 To give credit where credit is due: Alaster of K9 Protection dissuaded me from taking all his amazing dogs.
I love animals, dogs and, most all, German Shepherds. Our property in France was purchased eight years ago not because of its view over the bay of St Tropez but because it came with Boris and Inga, two German Shepherds.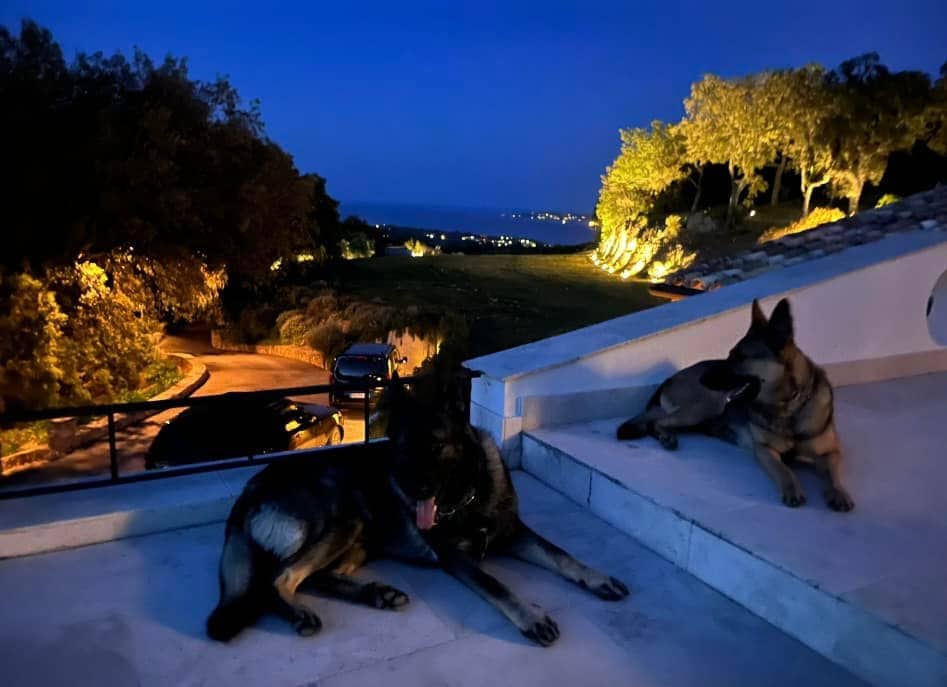 Zazou, a German Shepherd puppy, joined the pack four years ago and that brings me to the nub of our story and Alaster's leading role in it. Despite the involvement of numerous dog trainers, including the ex champion trainer of France, Boris did not take kindly to the arrival of Zazou, at least initially. And over the years Zazou, my saviour during Covid lockdowns, developed into a beautiful but high maintenance diva quite willing to misbehave when not given the attention that she (thinks she) deserves. Being banned from restaurants was only part of the problem.
My Somerset based sister-in-law, a part-time dog trainer herself, aware of the above, introduced me to K9, Alaster and the team. The poor man was then bombarded over the years with questions not only concerning the diva's behavioural issues but also about our search for the "right" additional dog for us, commuting between Switzerland and the South of France where ten years ago, in a rental villa, we had nighttime visitors who made off with our watches and money, all stolen whilst we slept. Our own property has CCTV cameras, an alarm with panic buttons connected to a security company. But it is the dogs that are the main deterrent: word of mouth in a country environment is a powerful tool - taxi and delivery drivers, workers, village gossips all know our property is the one with German Shepherds.
Protection dog recommendations
The challenge for Alaster was not only to recommend a protection dog that is happy to live and travel with a possessive diva but also a German Shepherd that is relaxed around boisterous children, including Lorenzo, a two year old grandchild, and our many visitors during the season plus the staff, some of whom love dogs whilst others are wary of them. Well of course, he and Sian with the rest of the K9 team mastered the challenge with 'Z' moving in early this year after many Covid-related delays.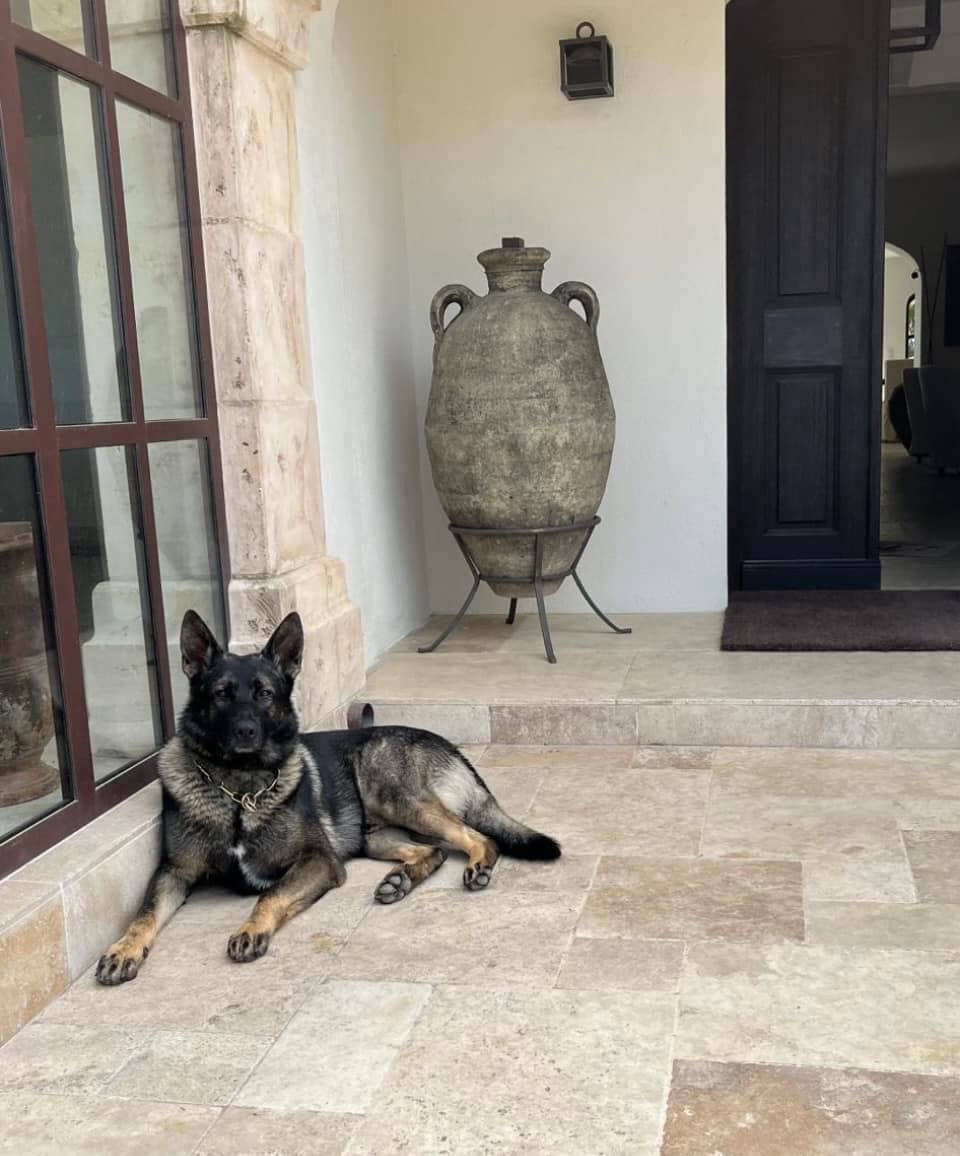 'Z' looks and is formidable, SAS material according to an ex SAS friend, combining that with the sweetest temperament imaginable. Zazou and 'Z' have become a closely bonded team helped by the former spending three weeks with K9 in Somerset for that all important introduction.
The dogs travelled between the UK and France with Gofetch who did an outstanding job (thanks Stuart), dealing with all the paperwork and making sure the dogs are comfortable (I am not sure the French hotels know that the second bed is for the dogs).
They say with dogs, and us humans for that matter, that it is fifty per cent about genes and fifty per cent about what you do with them. K9 is extremely selective when it comes to genes and on three onsite visits in Somerset we witnessed what K9 do with those genes, turning out a selection of happy dogs with a variety of characters and capabilities (even the best genes do not guarantee an Olympic gold medal).
Handover training
The handover training was well structured and fun, a "must do" although I admit (unlike Regina, my partner), I found the protection part a bit of a challenge - I love my dogs so much that I would put myself in harm's way to protect them.
To the moral of this story: if you want a happy, complete life, get a dog. If you also want to make it invigorating, interesting and challenging, get a German Shepherd who, as an extra, will keep those nasty people at bay. German Shepherds are intelligent, adaptable, courageous and oh so loyal following you everywhere; and they can be fearsome.
Because of all of that, wherever you live, make sure that your German Shepherd comes from K9 in Somerset.
Stephen Mills,
Chairman Schroders Capital
Are you looking for Personal Security?
Give our dog trainers a call and we can discuss your security requirements