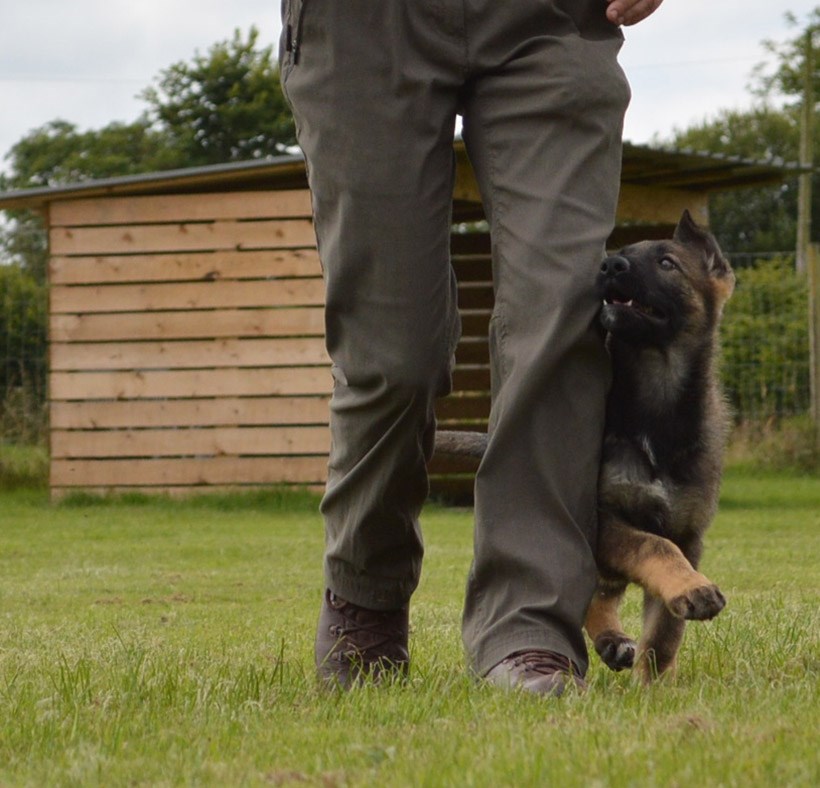 At K9 Protector we train protection dogs to provide the highest level of protection for our customers. Intense training starts when a protection dog reaches a mature adult age but basic training starts from the age of 8 weeks.
Below is an overview of the obedience training we provide for our young pups.
One tiny paw step at a time.
Initial training is very gentle as each puppy gets into a rhythm of learning and development. Puppies can only take in a limited amount of information and can be quickly overwhelmed, so we adopt a routine that takes learning one step at a time.
If necessary, our highly trained team of dog trainers will speed up or slow down the training courses to suit the needs of each puppy.
Fun and rewarding puppy training
Learning should be fun and puppies learn best when it's fun and rewarding. At K9 Protector, we use healthy treats to reward puppies and provide positive reinforcement. When a puppy follows commands or is seen to be making an effort, we provide a treat to motivate and encourage them.
As well as treats, we use the right tone of voice and other ways such as stroking to provide positive feedback.
By making learning fun and providing a reward, whether it's a treat or something else, puppies develop through a learning loop of learn - get treated - learn more and this proven process allows the trainers to quickly move each puppy through the different phases of development.
Types of learning for puppies
Initial puppy training starts with simple commands such as staying close to the trainer when he or she is walking, sitting and lying down. Once these commands are consistently followed, the puppy is ready to move onto the next phase where more commands are taught and, as they become adults, scenario-based protection dog training is provided.
Each puppy works closely with our trainers on a daily basis to build trust. Progress is reviewed continually, and training is modified where necessary to make sure that each puppy develops to the best of its ability and at the pace that's right for them.
Repeated learning
Learning for any dog, puppy, animal or even human requires repetition, and the more a puppy is trained in a specific area, the better they become at doing what's required.
When we move on to cover new commands and to deal with different scenarios for protection training, we continue to repeat what has been learnt previously, so that new learnings don't replace what has been previously mastered.
Repeating learning also helps puppies to get better and respond quicker at what they are being asked to do.
See it for yourself!
Want to get a feel for the kind of protection dog training we provide our puppies? Contact us for a visit or watch this short video on YouTube (and don't forget to hit the Subscribe button as well to get future updates!):
If you would like to find out more about how a protection dog can benefit you and your family, get in touch. We would love to answer any questions you have and invite you to meet our friendly team of puppy trainers and protection dogs.
Call 01761 239 338 today!