Dear Alaster & Sian
We have now nearly had Harley a month and he is gaining quite a reputation for himself for playing ball, family and friends cannot resist coming to visit him and not us ! No one can believe how clever he is with a ball and his persuasive charms to keep it going. He seems extremely happy within himself.
From Stuart and I point of view we feel this last week has been a changing point for the three of us , we have had an extremely busy week of management meetings which we held at home and have had "Rupert" now nearly a fortnight with his erratic behaviour and our vegan relatives for two nights ! So fair to say it was a busy house and Harley has been brilliant and so well behaved that Stuart and I have gone to bed at night both commenting on how good he has been putting up with all sorts.
Monday was a big turning point as we both had to go to Edinburgh for the day so we left Elaine and Andy in charge of his daily routine, all I did was plague Elaine on the phone and worry. When we finally got home I really can't describe the welcome and affection that Harley displayed, it was really his first time being without us and having a day to himself must have made him finally turn on that emotional click that he was part of us both ! It was a super feeling!
We both felt his love that night big time!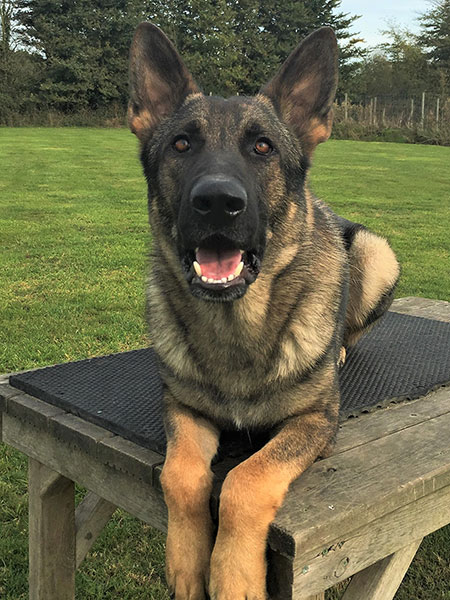 Whilst having "Rupert" who is still nit-picking away I have just kept to all off lead commands whilst out walking which Harley is good at and not tried to break on me. Once the weekend is over I fully intend to go back to some on lead commands and brush up again.
He seems to just go with the flow and will walk off lead quite happily by my side if that's what I ask of him.
This last week he has now elegantly mastered getting in and out of his round bed with sides, he's started taking himself off to bed now and seems to like the pillow effect !! He is starting to be less clumsy now and can avoid the water bowls !!! placed around.
That's all our news, it's not now about waiting for Harley to bond we are the ones who find it difficult to leave him.
He is such a clever big Wolfy dog and you can't help but love him.
Hope you are all well,
Kind Regards
Stuart , Katharine and Wolfy dog