Protection Dogs Jack And Anka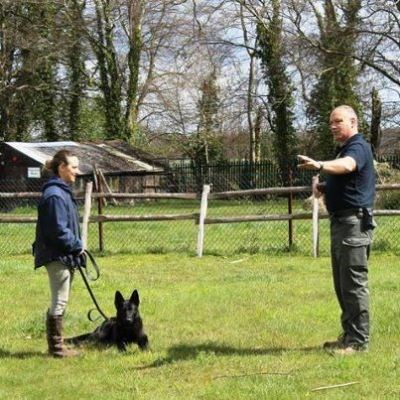 Anka was a compact bitch we trained to executive protection dog status early last year. Following a domestic burglary Mr and Mrs C from Bookham in Surrey contacted K9Protector. They had a previous experience with a protection dog company and as a result of that experience they were naturally cautious. Anka was viewed by Mr and Mrs C and it was decided that at the earliest opportunity Anka would travel to her new home in Bookham. After a comprehensive handover at home Anka settled to her new family home.
Mr and Mrs C both have two adult daughters so it was essential that both understood how Anka would behave under threat . Len is pictured left giving instruction on handling.
Some 8 weeks ago Mr and Mrs C contacted K9Protector again regarding the possible purchase of a second protection dog. At the time we had available a lovely substantial male called "Jack". After Anka had met Jack and given her seal of approval Jack was delivered to his new home and life in Surrey providing the very real peace of mind of owning a protection dog to Mr and Mrs C.