Protection Dog Trainers
Protection dog trainer Bob Pocock
Bob joined the Wiltshire constabulary in 1969. In his service he was an operational Police Dog Handler. He was a operational handler for 25 years and in his time made some very high profile arrests and won many regional competitions and trials with his dogs. In 2000 he completed his UK home office instructors course and then went on to become the forces senior police dog instructor. In 2010 he retired with 42 years service bringing his skills and expertise to K9 Protector. Bob's constant enthusiasm to improve his candidates is much valued and his wealth of experience in the development of protection dogs is second to none. He continually asseses each protection dog throughout his or her training to ensure that the protection dogs that pass our rigerous training programme are the very best family protections dogs available in the UK
Protection Dog Trainer - Alaster Bly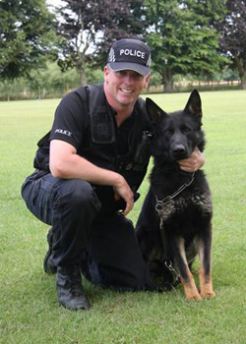 Alaster joined the Metropolitan Police in 1988 and then the Wiltshire Constabulary in 1996. In his service he spent the majority of his time as an operational dog handler. Handling general purpose dogs , drugs search dogs and tactical firearms dogs.
Alaster left the service to set up K9 Protector. Alaster is a specialist in obedience and his commitment is evidenced by the standard of the protection dogs he develops. He says that the pursuit of improvement and quality are his goals when training family protection dogs to the highest standards. However don't just take our word for it look at our testimonials page you will see a wealth of customers that have invested in a protection dog from K9Protector.
Through his work with K9Protector and his service in the police Alaster has often been called upon as an expert spokesman on the subject of protection dog training by the national media. His most recent being his interview on the

Radio 2 "Jeremy Vine show.
Protection Dog Trainer - Will Edwards
Personal protection dog program trainer Will Edwards joined us through our apprentice program.
Will has recently qualified Dip in Working Dogs and Canine Welfare. Will brings a passion and dedication toward development and is an integral member of the team. After leaving school he had intended to join the Army as a dog handler but by chance he happened across our apprentice scheme, applied and was selected to follow our structured training program whilst working toward a qualification in working dogs and animal welfare.
Protection Dogs - the Sword at your side