Protection Dog Updates.....
Managing Director and protection dog trainer Alaster Bly was recently asked to give his expert opinion on the BBC Jeremy Vine show. The show topic was defending your home in a home invasion scenario. Clients who purchase protection dogs from K9Protector have a formal and practical input on tho dee legalities involved in using a family protection dog to defend themselves.
Protection Dog Queena - Our Real Black Beauty
Queena is one of our all black imported females. Joining us in February 2013 Queena has excelled in our protection dog training programme. She is balanced and very social. She is wonderful around children of all ages. She has fabulous obedience and devastating protection abilities you can view multiple pictures of Queena by viewing our protection dog gallery or by calling for more information
Protection Dog Employee of the month?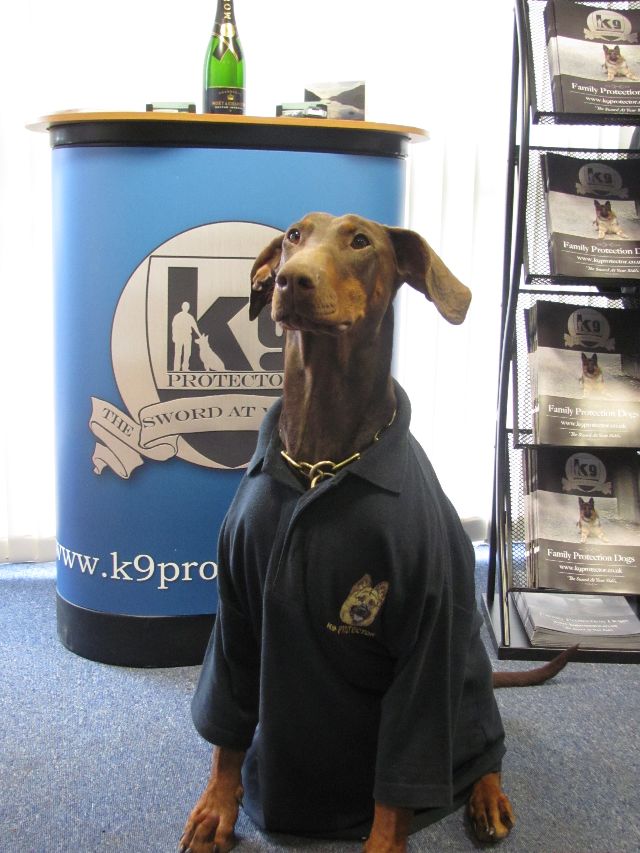 Pictured here is Seren dressing as employee of the month - A small amount of humour for protection dog news
Elite Protection Dogs
We are proud to announce the arrival of "Vega" our first Giant Schnauzer in training to become an Elite Protection Dog. Vega comes from southern Germany and from world wide renowned working lines. Vega is very social and early testing reveals she will be a very capable protection dog.
I will in time post pictures of Vega on our protection dog gallery and "for sale" page.
Protection Dogs Social Training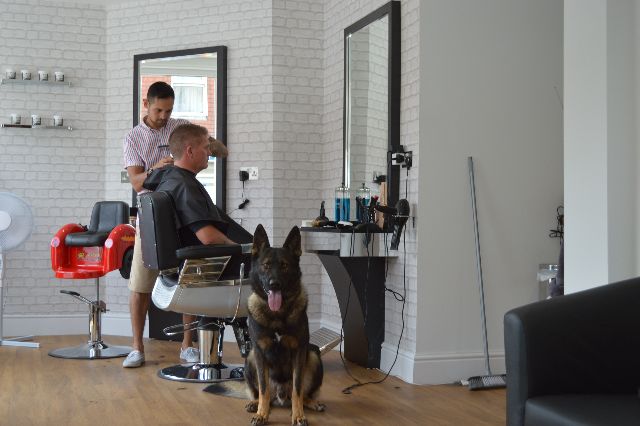 A recent trip to a local barbers. Mack is a fine protection dog that is balanced and calm. He was happy just to sit at my side and observe the world. A credit to his training and a joy to own Mack is an elite level protection dog.
Click for details of protection dog training
Home Security 'Family Protection Dogs'
I am often asked about the legality of using a family protection dog to defend yourself. There are elements to current UK legislation that protect homeowners when they defend themselves or others. The following statement by the justice minister strengthens a homeowners position when we defend our homes and our loved ones. It's not difficult to see how a family protection dog would deter a determined burglar
Frightened householders who over-react when confronted by burglars will get more protection under Government plans, the new Justice Secretary will say today.
Chris Grayling plans to change the law to ensure even householders who use force in a way that may seem disproportionate in the cold light of day will be protected from prosecution.
It comes after Britain's most senior judge reinforced the notion that a person's home is their castle, saying furious householders have the right to get rid of burglars in their homes and are not expected to remain calm when confronted by intruders.
In his first Tory Party conference speech as Justice Secretary, Mr Grayling will also reinforce his tough-justice approach by saying all community sentences should have a punitive element. "Being confronted by an intruder in your own home is terrifying, and the public should be in no doubt that the law is on their side," he will say.
"That is why I am strengthening the current law.
"Householders who act instinctively and honestly in self defence are victims of crime and should be treated that way.
"We need to dispel doubts in this area once and for all, and I am very pleased to be today delivering on the pledge that we made in Opposition."
Force which is "grossly disproportionate" will still be against the law, but this is a higher bar than the current law which says force must always be proportionate. But primary legislation will be needed before the changes can come into force and no specific parliamentary time for this has yet been set.
The Lord Chief Justice, Lord Judge, said last month that burglary was an offence against the person, should always be treated seriously, and stressed that householders have the right to use force "to get rid of the burglar".
Family protection dogs from K9Protector all come with a comprehensive two day handover package. An element of that handover covers the legality of using a protection dog to defend yourself or another.
K9Protector "The Sword At Your Side"
Protection Dogs Keeping Cool In The Hot Weather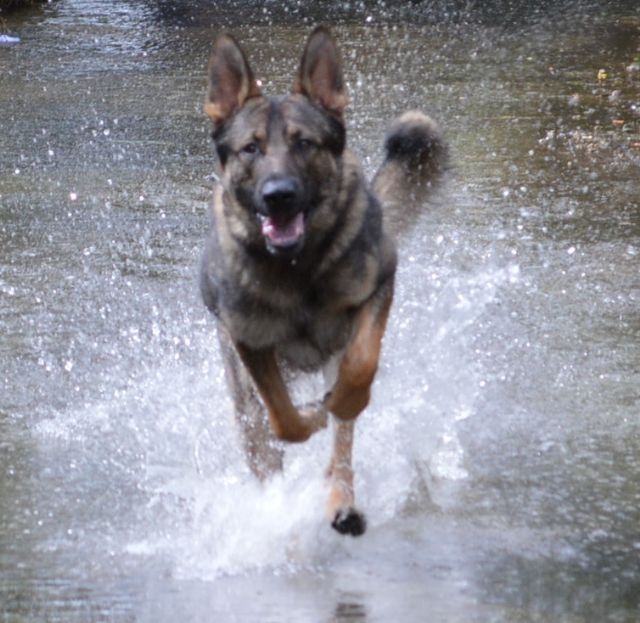 Following the recent hot weather all of our protection dog candidates enjoyed a dip in the local ford. Training for the protection dogs was geared to the weather conditions so an early start for all of us finishing with all protection dogs cooling off !!!
Yorks Success !! Bad Guys Nil Protection Dog 1
We were contacted by a couple in Yorkshire that own a business and felt vulnerable because of the type of business. They purchased a fully trained protection dog from us and last November we handed A**a over to them following a comprehensive handover.
Last week almost a year after handover of our protection dog they again made contact to say how they had disturbed a burglary in progress at their business and that the protection dog we had supplied had engaged one of the intruders whilst they had attempted to attack the owners with a peice of wood.
Needless to say they were overjoyed at the way A**a had performed. So it really was Protection dogs 1 bad guys nil !!!
Top Breeds For Protection Dog Roles
The following are recognised as being great breeds for protection dog roles
1. Doberman Pinscher – If you have a large piece of property that you are trying to protect, a Doberman Pinscher is a great protection dog for you.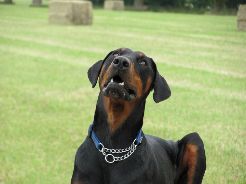 This breed is incredibly fast and is able to reach an intruder in a short amount of time. Known as the fifth-smartest dog breed in the world, Dobermans are fearless, alert, and loyal dogs.
2. Rottweiler – Originally bred as cattle-protecting dogs, Rottweilers are known to be relentless protectors of their pack. They are an intelligent breed and extremely loyal to their owners. Rottweilers are known to be aloof with strangers until properly introduced to them and are very quick learners and fabulous protection dogs.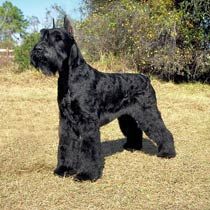 3. Giant Schnauzer – Giant Schnauzers are strong, powerful, and dominant dogs that require strict training.
This breed requires a lot of mental and physical stimulation. Giant Schnauzers are powerful, compact, and intimidating protection dogs. Their extreme family loyalty makes them excellent family guard dogs.
4. German Shepherd – German Shepherds are bold, confident, and fearless. They are extremely intelligent and quick to learn commands, thus making them a favorite protection dog breed.
German Shepherds have a calm demeanor when in a household but can quickly react when their family or home is threatened.
K9 Protector Protection Dogs Attracting Attention
As a small company we have always maintained you can't mass produce quality. When
training protection dogs
to the highest standards we have always maintained that we would keep our business low key and personal. That being said it's been great to see our recognition on the social media sites this week with a growing following I would like to personally thank everyone for their interest and support. View our
Protection Dogs on Facebook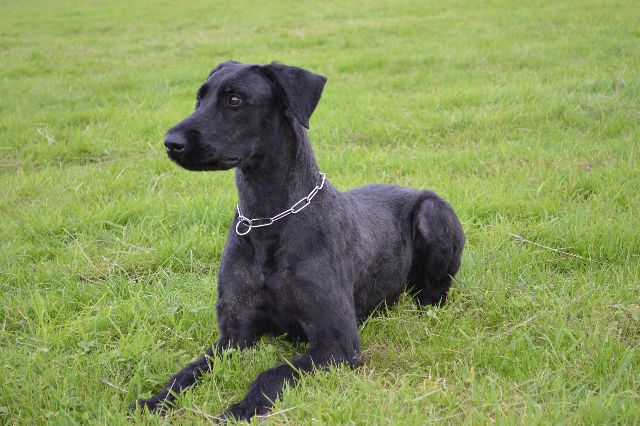 Protection Dog Vega in Training
From the very best bloodlines and the most renownd Schnauzer kennels in Germany comes this special dog. Protection Dog Vega is in training to achieve an elite standard. Despite a rather silly haircut Vega is excelling in her training and will become a fabulous protection dog and family pet. Although not yet available for sale you can certainly register an interest by contacting our
protection dog trainers
.
Protection Dogs Bibi and Odin
Protection Dogs Bibi and Odin are owned by a London based family. They purchased Bibi as a compact protection dog two years ago following a nasty aggravated burglary. As the couple had young children they felt a bitch as a protection dog may be the right choice. Once Bibi had settled into being a much loved family pet as well as a formidable protection dog they decided to bring in another fully trained protection dog into their home.
Bibi returned to us whilst the couple were abroad. It was then we started their training with Protection dog Odin. Now some 12 months after the handover of Odin both dogs have settled to their role and provide the ultimate peace of mind. Here you can see protection dogs Bibi and Odin being trained...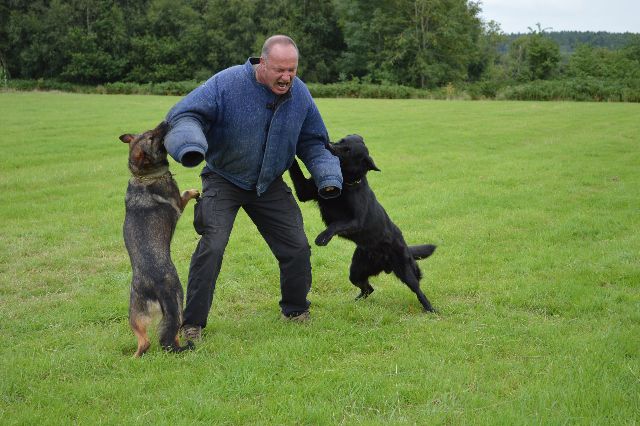 Protection Dog Usso Heading For Spain
For anyone who has followed Usso's progress you will see he is a handsome and very capable protection dog. He has been purchased by a lovely family that live in the Costa del Sol. He will be travelling to Spain in September to protect the family and business from any unwanted guests. A personal favourite of mine Usso will be missed!
K9 Protector Supplying Protection Dogs To The UK
In the past year K9 Protector staff have been working in every corner of the UK from the tip of Scotland to Northern Ireland to Cornwall. Our protection dogs have been handed over to clients from all over the UK. Our specialist handover package ensures that your chosen protection dog is intergrated into your home with ease. Owning a protection dog requires a commitment from the prospective owner to learn how his or her protection dog behaves under threat the handover enables you to learn this in a safe and secure manner. Visit our protection dogs for sale page for available dogs.
K9 Protector Protection Dogs Have The XFactor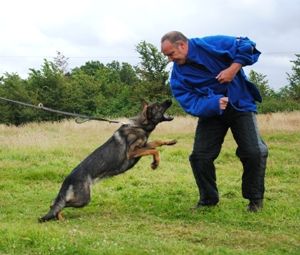 No other protection dog company goes to the same exhaustive lengths that K9 Protector does to ensure that your chosen protection dog will defend you no matter what the situation.
Our comprehensive handover package will ensure you have no doubt about your protection dogs capabilities and the legality of using a protection dog to defend yourself.
Protection Dogs Get Social
The training of our protection dogs can often produce some fabulous pictures and news. Therefore we post many of the pictures onto our K9 Protector Protection Dogs facebook and twitter pages: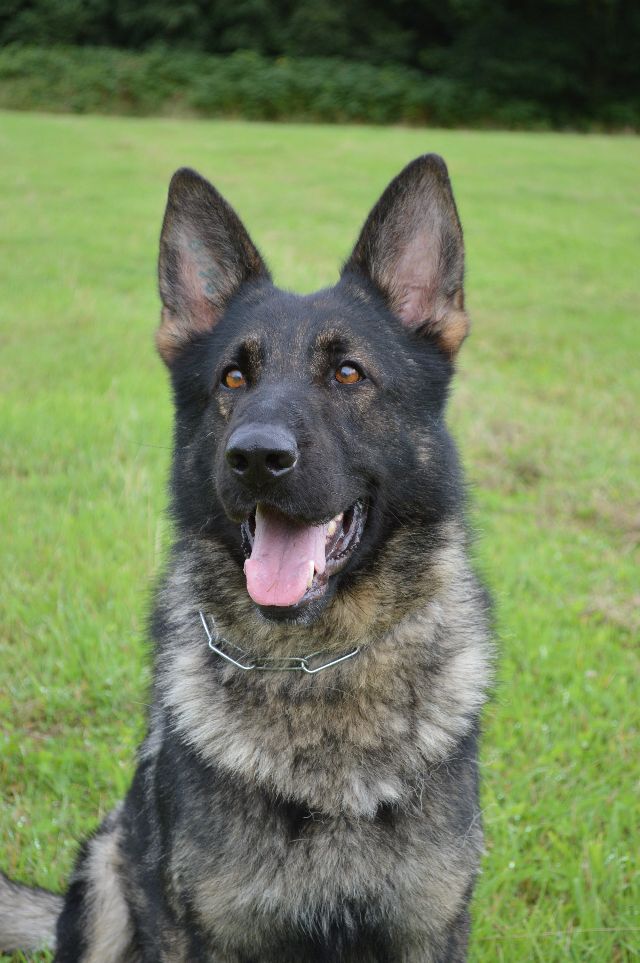 Protection Dog - Xen
September 2013
Xenon is in training to become an elite level protection dog. He is 20 months of age and is very substantial. His health heritage is excellent and his hip and elbow xrays show no early signs of dysplasia.
Xen has excelled on our executive protection dog training programme and as he now moves towards elite status he is sure to give a family real peace of mind. As a protection dog trained under K9protector's exacting standards Xen is balanced and social yet retaining an alertness and presence that you would expect from a protection dog. For more pictures of Xen and indeed other protection dogs for sale click protection dogs for sale